Archive
> Our visit to German Chancellor Angela Merkel
Our visit to German Chancellor Angela Merkel
On Monday, April 3, 2017, a group of 30 students from the German-Czech course of education went on an exciting study trip to the capital accompanied by Mr. Wenzel, Ms. Pfitzner, Ms. Weber and Mr. Křenek. Our first destination was the Czech Center in the Embassy of the Czech Republic. When we arrived around noon, we were warmly welcomed and talked about the German-Czech relations. We were impressed by the various offers of cultural cooperation between Germany and the Czech Republic.
Then we were hugely excited about visiting the Federal Chancellery where we had been invited to take part in a panel debate with German Chancellor Ms. Merkel, Czech Prime Minister Sobotka and Slovak Prime Minister Fico. During the government leaders' press conference we were given a detailed explanation of the debate procedures. It started at 2:30 PM and we watched with great interest.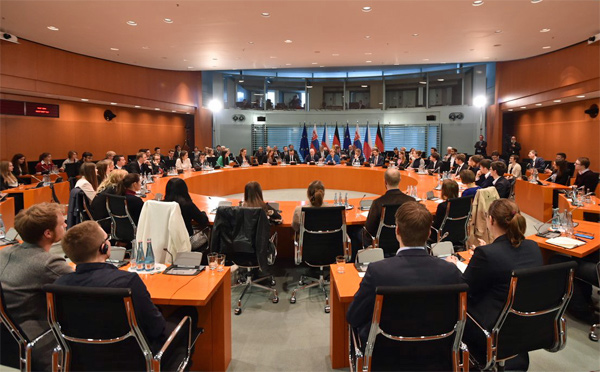 We, the students from the binational courses of our school were not the only ones to represent the cooperation between the countries, but other students interested in intercultural issues and the Czech and Slovak languages were also present. As Mrs. Merkel pointed out in her opening statement it is important to talk with young people when the future is concerned. We were especially glad being allowed to actively take part in the panel debate.
In preparation for our visit we read the so-called 'EU Commission's White Paper' and informed ourselves about possible future scenarios for the European Union, which benefitted us directly when the discussion turned to the future years. How is the EU supposed to be organized? What is this going to mean for our everyday life? To what extend will the EU member states collaborate? These were the questions we explored and we also listened to the stimulating thoughts of the government leaders. Unfortunately, we couldn't deal with every single aspect since our time was limited. We had to finish the debate after just one hour. Nevertheless, we gathered lots of ideas and suggestions from the talk.
Before the government leaders left, we took a joint photo in the Federal Chancellery. In a brief guided tour through the building we looked at the paintings of former chancellors. It was a very exceptional and interesting visit of the capital. We are very happy about the chance to catch a glimpse of the current policy and to discuss a topic we all share. It's not often that we have the chance to be in a conservation with the leaders of our countries.
Luise Hewerer (grade 12)