Sprachreise nach Wales vom 10.-18.10.2019
Sprachreise nach Wales vom 10.-18.10.2019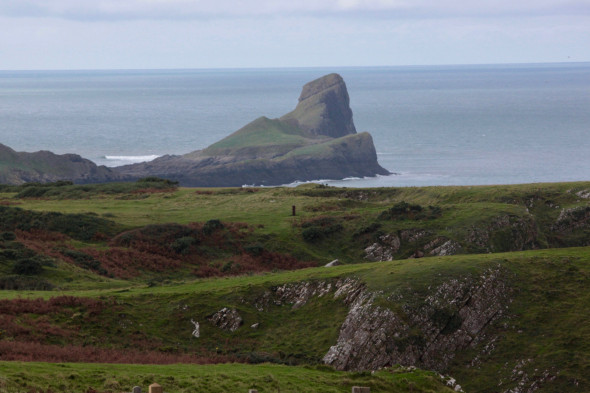 Journey from Germany – von Lise Peschka, 10/4
Good morning everybody, my name is Lise and I'm talking about our journey from Germany to Wales. First of all I can say that it was very long, 24 hours and it was quite exhausting. When we left Pirna I think everybody was excited, me too of course. In total we crossed 6 countries, Germany, Belgium, Holland, France, England and now wr are in Wales. At night I tried to sleep but it was hard on the bus. About 6 o'clock we went on the ferry. The view of the sea on the top of the ferry was beautiful. When we were back at the road in England, on the left side of course, we made a stop in Windsor and looked at the castle. When we arrived in Swansea we were at the beach, I was just very happy. I think it's really nice here and my host family is very friendly. I am glad that I have the opportunity to travel to Wales.
The host families – von Celine Venus, 10/2
Hello, I'm Celine and I'm going to talk about our host family. Tina, Lilly, Pia and I are in a host family. We have a host dad and a host mum. They're around 70 years old. They've a cat, her name is Sushi. Everyday we must walk a half hour in the morning and in the evening to the bus stop, because they live in Upper Killay, it's a village 7 km from Swansea. Our host dad and host mum are really lovely. Our host mum likes pandas much. So in all of their rooms are panda bears. Many pictures and souvenirs are with pandas. So we've bought a panda book as a goodbye gift. For breakfast we got cereals some toast and orange juice. For dinner we got delicious food everyday. So one day we got burger and fries, an other day pizza or spaghetti. All of us like our host mum and host dad really much because they're happy all the time and we laughed much with them. I think tomorrow the goodbye will be hard for us.
The Beach Art Project – von Greta Heimann, 10/2
Hello, my name is Greta and today I'm going to talk about the Beach Art Project at Swansea Beach. On our first day in Swansea, Saturday, we went to the school and made a test. After this we went to the beach. The way was amazing. It was a sandy path with trees and shrubs on the edges. Then we worked in groups of 5 or 6. I worked with Luisa, Lilly, Celine, Tina, Thomas and Johannes. We had the task to create a picture with thinks we found at the beach. We made an anchor, made of wood pieces, trash, cockles and many other things we found at the beach. The name of our picture was "The different shades of Swansea Beach". I felt very proud of our work, in my opinion it was the most beautiful picture. I think it's a very good opportunity to draw attention on environmental protection because for example we found many plastic thinks. That was the Beach Art Project. Thank you for your attention.
Dan yr ogof caves and dinosaur park – von Thomas Kreitz, 10/2
Hello, my name is Thomas and I'm going to talk about our trip to the "Dan yr ogof" caves on the 13th of October. It was a bit rainy but that wasn't annoying because the caves are wet everyday of the year and the rain wouldn't have changed anything. There was a very realistic dinosaur park with a lot of different dinosaur species. I visited every of the 3 caves, the Dan yr ogof, the bone and the cathedral cave. I liked the cathedral cave best, there was beautiful music and a stunning atmosphere. There was an interesting shop with some funny things to buy, there was also a café but I wasn't in it. I enjoyed the visit of Dan yr ogof.
Cardiff – von Lena Sturm, 10/4
Good morning, my name is Lena. I want to talk about our trip to the capital city of Wales, Cardiff. In Cardiff live 360,000 people. We have got free time in the city. And we go trough Cardiff in groups of 4 or 5. I went with Lara, Robin and Adina trough the city. Cardiff is a very big city with a lot of people and shops. We have got many new impressions. It was very amazing. We were in a restaurant and ate burger. The weather wasn't so good. It was windy and it was raining a bit. We met us at half past five on the bus and then we drove about one hour to Swansea. It was pretty impressive to see Cardiff.
Rhossili Beach – von Lilly Bahrke, 10/2
Hi, my name is Lilly and today I'm going to talk about the trip to Rhossili. We drove about 43 minutes and the weather was cloudy, but also the sun has shown itself between the clouds. My first impression about the place was "Wow, what a beautiful landscape!" and I saw the sea, the beach, the cliffs and the way we took to go to the coast. There was an amazing atmosphere. I could hear seagulls, the wind and the sound the waves make when they break. Down the cliffs were many big rugs and also some little stones with holes which should bring a lot of luck. Me and my friends took a lot of pictures, hear the sea as it was low tide and we saw many shells, seagrass and other sea animals. When we were back, we lied down in the grass and relaxed. All in all I think the trip was the most beautiful trip and when I come back to Wales, I'll visit the place once again.